Hail Damage Repair Northlake
Here in the Chicago area, hail storms can cause damage to a vehicle within seconds. A severe weather phenomenon, hail storms produce ice spheres that can cause extensive denting, especially on the hood, roof, and trunk of your vehicle. In some cases, hail can even break windshields, as it pounds your vehicle relentlessly. Luckily, Performance Auto Body is the hail damage repair experts serving Northlake and the surrounding areas. We even offer paintless dent repair, ideal for hail damage.
Paintless dent repair can fix most hail damage. In fact, paintless dent repair is usually the best approach for hail damage since hail usually leaves visible damage that reduces a car's value without damaging the structure of the car. Paintless dent repair, also known as paintless dent removal, is the fastest, most affordable, and least intrusive process for vehicle dent repair.
We can help you with these damaging dents and broken windshields, should your vehicle sustain such damage from a severe hail storm. Our highly-trained automotive repair specialists can restore your vehicle to pre-hail condition. Using a variety of tools, techniques, and specialized training, our team will remove those dents caused by hail. We offer: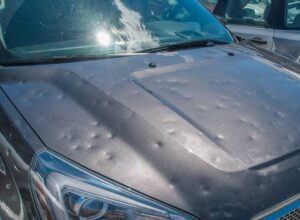 Dent repair/removal
Scratch repair
Auto painting
Auto paint repair
Paintless dent repair
Glass repair
Windshield repair
And more
Whatever it is your vehicle needs in hail damage repair, we can supply it! Our goal is getting your vehicle looking good as new again. Has your car been damaged by hail? Give us a call today to schedule hail damage repair straight away.
Hail Damage Repair by Performance Auto Body
When you bring your car to us, we will work with you through every step of the hail damage repair process, from providing you with a free estimate, to coordinating the repairs with the insurance company. And, we are able to organize a car rental for you while your car is being repaired in our shop.
We are I-Car certified, licensed and insured. Trust us for all your auto body needs including collision repair, hail damage repair, and more. We work on all makes and models of vehicles. And, all repairs are backed by a full warranty!
Our I-Car certified technicians employ the latest training, skills and tools to repair your vehicle back to pre-loss condition. We strive for timely repairs, and our customer service representative will keep you informed regarding the status of your vehicle. Give us a call today for a free estimate and to learn more about hail damage repair and all we can do for you and your vehicle.
Contact Us for Hail Damage Repair
Has your vehicle sustained damage from hail and is in need of professional repair? For hail damage repair in Northlake, call Performance Auto Body a call at 847-455-5511 or contact us for all your auto body needs.